Browse Donations
Many animals at Reid Park Zoo, such as the elephants and giraffes, eat browse (tender shoots, twigs, and green leaves of trees and shrubs) every single day. Zoo staff also use browse as a way to add enrichment to the lives of our animals.
How can you help? We're always looking for fresh, healthy donations of recently trimmed or felled landscaping from our community. Check out the list of accepted plants and FAQs below, and let us know if you'd like to coordinate a donation. We appreciate your donations!
Popular Local Browse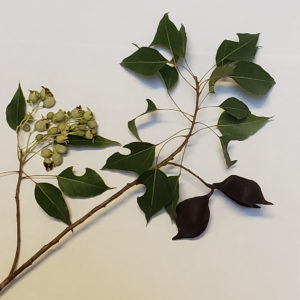 Complete Edible Browse for Reid Park Zoo
We cannot accept donations that have come into contact with or contain any oleander, catclaw acacia, heavenly bamboo (nandina), mistletoe, black walnut, desert willow, or nightshade.
We ONLY accept the plant species listed below. If your plant is not on this list, we cannot take it.
Acacia Species – Sweet Acacia, Willow Acacia, Shoestring Acacia
African sumac (Rhus species)
Arunda grass/giant reed (Arunda species)
Ash (Fraxinus species)
Bamboo (Phyllostachys species)
Banana (Musa species)
Bottletree (Brachychiton species)
Cottonwood (Aegiros species)
Ficus (Ficus species)
Fig (Ficus species)
Grapevine (Vitus species)
Hackberry (Celtis species)
Honeylocust (Gleditsia species)
Thornless Chilean Mesquite (Prosopis chilensis)
Mimosa (Prosopis species)
Mulberry (Morus species)
Pepper Tree (Schinus species)
Pistache (Pistacia species)
Rose Petals (Rosa species)
Sugar cane (Saccharum species)
Sweet Bay/ Bay Laurel (Laurus nobilis species)
Willow (Salix species)
Xylosma (Xylosma species)
What is browse? 
Browse is vegetation — such as twigs, branches, shoots, and leaves — from woody plants like trees, that is eaten by animals. The branches and logs of many trees that grow here in Tucson make excellent browse for animals here at the Zoo!
Will you take my tree trimmings for browse? 
Potentially! We accept only certain tree species and types, based on what our animals can consume. Some plant species are toxic or nonedible, so it is very important that browse donations are clean loads that are not mixed in with other vegetation types. Because we only take certain species of plants, donations must be identified by staff before they can be accepted; our staff are trained in plant identification and can identify the plant species we accept. If you are planning to drop off trimmings, we ask that you send us a picture first so that we can confirm whether or not it is something we can take before you bring your trimmings to the Zoo.
What browse can't you take?
We cannot accept any plant species not found on our complete edible browse list, found above. Trees cannot have been treated with any chemicals (ex: pesticides/insecticides, etc). We cannot accept donations that have come into contact with or contain any oleander, catclaw acacia, heavenly bamboo (nandina), mistletoe, black walnut, desert willow, or nightshade. We also cannot accept any donations with thorns.
How freshly cut does the browse need to be? 
The fresher the better! We ask that donations be coordinated so that the browse arrives at the Zoo as soon after being cut as possible, as many of the animals will not consume the browse if it is wilted and dead. Because of this, we ask that leafy branches be no more than two days old. Logs can be a little older but it is still preferred for them to be fresh.
Will you pick up my browse donation?
It depends! We are sometimes able to coordinate pick-ups from homes and businesses, but this is contingent on the day's staffing, scheduling, the amount of browse being picked up, and the location of the pick-up. If you are able to coordinate with the Zoo's browse team, then we can and do schedule pick-ups. If we are unable to pick up the donation, you are also welcome to drop it off here — just let us know when you would like to come and we will plan your browse donation drop off!
Which animals eat browse?  
Many of our animals use browse! The herbivores, like our Elephants and Giraffes, consume the largest quantities, but other animals, including our tapirs and goats, also enjoy fresh cut vegetation. Animals large and small benefit from having fresh tree branches and leaves not just to eat, but also to make nests and beds out of, to hide and play in, to scent mark and smell, etc. Browse is not just a tasty snack but also a form of enrichment that helps us keep our animals mentally and physically stimulated.
How large can trimmings be? Do you accept logs and root balls? 
The bigger the better! We prefer branches to be intact, rather than sawed up into mulch. And yes, in addition to the leafy branches, we also happily accept fresh logs and root balls! The elephants will actually use their tusks and trunks to de-bark logs and they will chew on the root systems of root balls. No part of a tree goes to waste here at the Zoo! We have even accepted logs that weigh more than the adult members of the elephant herd — and they weigh multiple tons! We do ask that if you are bringing logs, that you include a picture of the tree prior to cutting and/or bring some of the leaves/branches for identification purposes. We must be able to confirm plant species identification in order to accept any browse donation — branches, logs, or root balls! 
Why should I donate my browse to the Zoo? 
By donating your tree trimmings as browse for the Zoo, you are not only feeding and enriching the animals here at the Zoo, you are also keeping waste out of the landfill! Instead of going to the dump, tree trimmings brought to the Zoo are used by the animals. After the animals have eaten the bark and leaves off of branches and logs, there is a woody core left behind. This can be used to create 'furniture' for the animals – fun pieces for them to climb on and explore – or it can be chipped into mulch which is then placed back in animal habitats and walking paths like in our Pollinator Garden. By giving the Zoo your browse, you are helping us care for the animals and the Zoo in an environmentally friendly way!
To coordinate a browse delivery, fill out the form
Look for a response from browse@reidparkzoo.org — and add that address to your contacts folder! If you don't get a response within 24 hours, please check your spam folder or reach out directly to the team at browse@reidparkzoo.org.