Project Update: World of Play is Opening Soon!
October is a very active and exciting month at the Zoo. Construction projects are continuing at a fast pace, and we are completing some important repairs and maintenance projects, including replacing some large pipes and water elements in our South America area.
World of Play Opening Soon!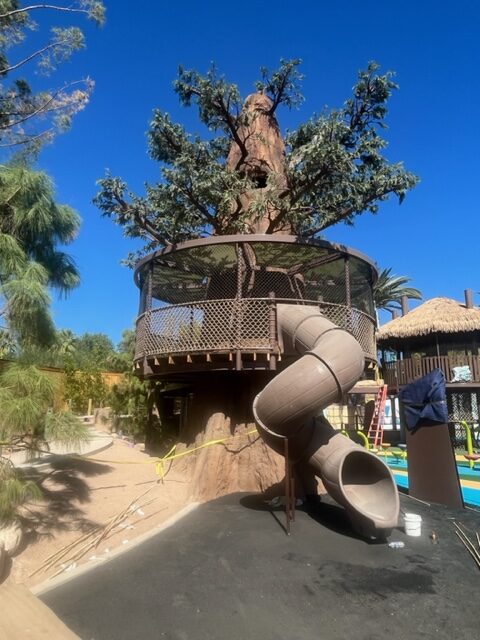 Our annual Boo at the Zoo event will run evenings October 20-22 and 27-29 featuring character meet and greets, spooky scenes and family-friendly Halloween fun. And, the most exciting development of all: we are set to open the new Angel Charity for Children World of Play with Zoo member only days Thursday – Saturday, October 26-28 and public opening on Sunday, October 29.
Located inside the Zoo adjacent to the Conservation Learning Center, World of Play is accessible for children of all ages and physical abilities. In this unique, sensory nature playground, young guests can explore the redwoods as they scale a 30-ft sequoia tree, chill out in Antarctica as they travel through a cool ice cave, and sleuth for fossils at a dig pit. There is a covered area for parents to sit and relax as the kids get the zoomies out. We are grateful to the generous donors and to Tucson voters who have helped to bring this wonderful new addition and learning experience to the Zoo. We hope you can come out and experience World of Play!
New Parking Lot
The new parking lot for the Zoo, Edith Ball Adaptive Recreation Center (ARC), and Reid Park is in progress and beginning to take shape with opening of the main portion of the parking lot expected late December. Full opening of the parking lot, including the loop with handicap parking and drop off, is expected to be complete in January. Work continues on utilities as well as pouring of curb stops and sidewalks with paving to start in the next few weeks.
There have been changes to the parking for Adaptive Recreation Center and along Lakeshore Lane during construction. Parks and Recreation, Reid Park Zoo, U of A Baseball, and Adaptive Recreation Center representatives are continuing to meet and stay in communication as we ensure access is available to each facility throughout construction and to address any issues that arise quickly.
There are some parking spaces on Lakeshore Lane that will be unavailable during construction. These spaces will re-open again at the end of construction in December. Access to travel through Lakeshore Lane will continue to be available throughout construction.
Pathway to Asia
Once the parking lot is completed, ARC, Zoo, Hi Corbett, and Reid Park visitors will be able to park in the new lot. At that time, construction of Pathway to Asia will take place in the current ARC and Zoo lots.
To prepare for the Asia construction, please note that the parking lot along Randolph Way at 22nd street (next to the elephant sculpture) will be closed for two years starting early January 2024 in order to house construction materials and trailers. When construction is complete, that parking lot will be returned to being available for park use.
The location of Pathway to Asia in the current ARC and Zoo lots, uses no existing green space in the park, only current asphalt and will convert 45% of the space to green space within the Zoo, including planting of over 300 trees between the parking lot and Pathway to Asia.
Plans have been filed for permits. Construction is expected to begin shortly after parking lot completion in January 2024 and will take approximately 24 months to finish. We know that construction brings some inconvenience and every effort is being made to minimize disruptions. Thank you for your patience as we continue to work toward these new amenities at the Zoo and, as always, we appreciate your support of the Zoo and the animals.